Retracing Conversational AI Development for Success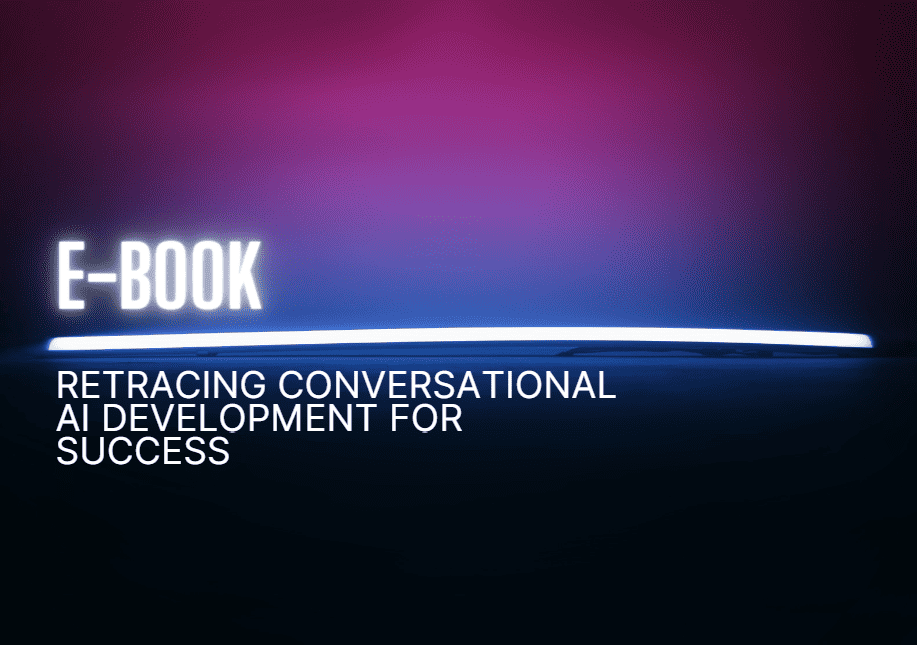 As financial services become increasingly commoditized and disintermediated, customer sophistication will place early adopters ahead of the competition against emerging services players.
As financial services institutions race to catch up with an ever-evolving customer landscape, anticipating changing needs has become a non-negotiable. Clients may increasingly gravitate towards self-service platforms; nevertheless, nurturing strong relationships and fulfilling expectations – especially for premium clientele – is critical to retaining current business and attracting fresh opportunities. By valuing customers as partners and tailoring experiences accordingly, financial services firms set themselves up for triumph in a competitive market.
The importance of strategic decision-making in organizations cannot be overstated, especially in economic downturns. With almost 20% of firms in the US cutting their workforce, businesses need to deliver quality, engaging experiences within limited budgets and talent. This is essential for starting conversations, driving product adoption, and generating new business. To meet evolving consumer needs, an imperative is creating personal digital experiences that capture attention and remove pain points. With the rapid pace of digital transformation, the ability to effectively deliver these exceptional experiences while keeping pace underpins success. And it all starts with financial services firms making their content (e.g., answers) highly available to clients.
Conversational AI and whole brand, virtual assistants are crucial for any business, and maintaining it requires continuous upkeep, experimentation, and optimization. Typically, customer support teams have handled experience management with support from product, marketing, design, and engineering teams. However, these scarce engineering wizards shouldn't get bogged down making minor experience changes or spending weeks and months on review cycles. To maximize the conversational experience management team's potential, we must leverage their skills efficiently.
To achieve a leader's objectives, we need to prioritize the team time and restructure teams at large organizations, in order to allow them to spend more than 50% of their time on listening to customers and making effective changes. Customer support leaders must also embrace technology and enable non-technical team members to take an active role in customer experience management. As companies continue to feel the pressure to succeed and grow, leaders must rethink traditional team structures to operate optimally. In this ebook, Knowbl examines why retracing a brand's conversational experience team structure is critical to business success in the new world of conversational interfaces.
A prospering business relies on top-tier customer conversations run with finesse.
Your customer conversations serve as the digital front door to your business. It should come as no surprise that there are billions upon billions of customer conversations happening today. But brand web and mobile pages are the basics — beyond driving brand awareness, they generate leads, and conversions, and serve as a home base for forging relationships with your audience.
However, the most powerful brands use conversational designs for:
Establishing a business's voice, tone, and conversational identity is crucial to creating a brand that resonates with customers.
Being available 24×7 for the intended audience of the various products, services, and offerings that are available to them in a clear and concise manner.
Meeting user needs, focusing on accessible design, content, tone, and response accuracy.
Ensuring robust and scalable experiences whilst safeguarding your business against security, compliance, and regulatory violations.
In today's customer experience landscape, conversational AI interfaces are integral to strategy, with the most effective interfaces driving conversions and securing an edge in the marketplace. Therefore, financial services businesses must invest in how they allow the brand to speak to their customers. This encompasses the talent they hire to oversee it, the conversational technology they employ to power it, and the guiding processes that inform teams' regarding the use of the conversational interface to drive business performance.
Let's examine how the success of your conversational system, and customer experiences in general, are directly influenced by your conversational design team.
Teams behind powerful conversations – AI & COE teams are the backbones of success.
For a Center of Excellence (COE) and AI team to truly become a company's most effective servicing tool, it's vital to have the right team on board. Finding top talent that can build, design, develop, and protect your customer experience is paramount. Proper team structure for conversational projects ensures alignment and clearly defined processes, resulting in successful workflows and close-knit collaboration with internal teams as well as external partners. Investing in this foundation paves the way for scaling and long-term success.
Conversational Artificial Intelligence enablement teams are entrusted to deliver unmatched experiences
The team responsible for your AI and conversational designs shoulders a great responsibility: to guarantee an enjoyable customer experience. Roles spanning customer and employee support, marketing, IT, web & software development, data scientists, conversational designers, and even external agencies must collaborate to identify and address friction and experiences that aren't pleasing to end users. Key team members unite to make content updates, run A/B experiments, integrate business rules and security protocols, enhance performance, optimize conversational flow, and ensure consistency with brand standards. The effect on your business hinges on the quality of this team's effective collaboration, making them as integral as conversational AI itself.
Choose wisely to ensure that your automated conversation provides value and promotes user engagement.
Often teams measure self-service success against a select few KPIs: call containment, AHT reduction, and NPS improvements. However, several variables weigh in before the launch, impacting performance. For many businesses, their conversational interface is the ultimate customer experience, meaning every element is critical: greeting, tone, knowledge, agent handoff, and accessibility determine the end-users encounter.
Investing in team structure is a sound strategy that can yield significant dividends for your business.
Running an effective conversational AI strategy is an always-on program that requires cross-team collaboration, executive buy-in, and sometimes even external agency support. Unfortunately, as your business grows, maintaining your conversational experiences becomes increasingly complex, often hindering the growth of your company. In these times, it is crucial for decision-makers to prioritize effective team structures that foster stronger collaboration within customer experience management teams.
From our experiences supporting large-scale enterprises, we have observed how a fragmented team structure corrodes cross-functional communication, slows down development, and results in misaligned business priorities. For leaders that can no longer afford to leave money on the table, the roadmap to building more successful customer experiences at scale begins with assessing how support teams, designers, and developers can collaborate more efficiently.
The traditional experience management operating model is broken
Collaboration is key to achieving shared goals, but organizations hinder their progress by operating in silos. Traditional conversational AI and experience development processes, and even the most recent approaches, tend to keep ownership and control solely in the hands of technical developer teams. This leaves business and support leaders, and experience designers unable to achieve their objectives at their preferred pace, compromising product innovation, service efficiency, and cost savings. Conversational AI development should serve as an enablement tool for businesses, uniting teams to achieve mutual avenues of success for customers.
Disjointed workflows = ineffective collaboration.
For too long, traditional conversational AI and experience development have constrained organizations to rely solely on technical engineering and developer talent. The lack of flexibility slows business leaders down, resulting in overly complicated development processes. Building even the smallest conversational automation, like frequently asked questions, turns into a complicated maze, trapping teams in extensive back-and-forths and QA cycles for a few customer experiences.
The old way of building for the experience results in disjointed workflows, leaving designers and support teams stripped of autonomy and control, and developers bogged down with low-impact tasks that never benefit the customer or business objective. It's time to give cross-functional teams the freedom they need to deliver the best brand experiences possible.
Misaligned priorities arise when a team is disconnected.
The paradigm of traditional conversational AI development corrals teams into silos, pitting developers, support teams, and designers against each other. Their diverse expertise and priorities often produce disputes among cross-functional teams, impeding them from working in harmony, and creating disharmony that bedevils customer experience projects. Today's conversational development teams consistently face the challenge of aligning team efforts.
When conversational designers prioritize tasks, they frequently opt for small-scale maintenance projects instead of new or higher-impact initiatives that drive innovation and better position the business. This conundrum is amplified when organizations rely on developer resources, as incremental improvements to customer experiences become over-involved and time-consuming. As a result, meeting goals and deadlines become almost impossible, resulting in a no-win situation for customers. When teams are bound to old-fashioned and monolithic methods of conversational design, particularly those exclusively handled by developers, effective collaboration becomes untenable, preventing cross-functional team members from performing at their best, and leaving customers to their own devices and dissatisfaction.
Developers crave independence to concentrate on their top priorities.
More often than not, companies position experience management centrally around engineering and IT personnel – experts equipped to tackle the first line of defense against security threats, weakening enterprise architectures, and writing reusable code. However, burdening tech talent with mainly experience improvement responsibilities truly does them – and your business – a major disservice. Once developers are bestowed with the keys to conversational design installations and improvements, every single task has to go through them. New experiences? Content edits? Tone adjustments? Brand Messaging? Compliance? New product inclusion? All have to go through development resources. This approach devalues the expertise of highly-skilled engineering talent, reducing them to mere pixel pushers instead of allowing them to concentrate their brains and brawn on the most engaging and challenging aspects of their work.
Agility is a coveted trait among marketers and designers.
Conversational development is often left solely to developers, putting call centers and support designers at a disadvantage. Call center leaders become mere ticket filers without much decision-making power, while conversational designers are dependent on developers for execution, leading to drawn-out, back-and-forth reviews that hinder progress. This structure not only stifles creativity but also limits an organization's ability to address critical issues and respond to changes in the market. Experience improvement requests can take too long to initiate, develop, and test, ultimately costing valuable resources and slowing an organization's momentum to personally serve customers. To break this cycle, it's crucial to give freedom and autonomy to business teams of diverse skills, so they can improve products, services, and experiences and adapt quickly to market shifts.
The costs of maintaining organizational silos are exorbitant.
In the traditional conversational AI development models, organizations focused exclusively on software developers faced harmful consequences. When developers are siloed from support teams and designers, productivity improvement falters, leading to missed deadlines and decreased efficiency. As a result, when these roles don't mesh, it can negatively impact your company's bottom line.

Inefficiency has a ripple effect, affecting every level of an organization.
The pace of AI and customer experience improvements can pose a major threat to businesses. Recent surveys indicate that 72% of IT leaders report inefficiencies stemming from project backlogs – a concerning figure, given that strategic initiatives often hinge on operational speed and agility. Fumbling with ineffective team structures only adds insult to injury, wasting precious time better spent on high-impact work. Gartner warns that "customer strategy must continue to be a central chair at the organizational strategy table". Now, more than ever, leaders must invest wisely to fuel growth and keep pace with the rapidly-changing digital experience landscape.
Make time and place for the vital undertakings of your organization.
To build a more robust foundation for your experience development team, it's counterproductive to remove developers from the experience development process. Instead, decision-makers should adopt a holistic approach to tackle shared goals in collaboration. By focusing on teamwork and effective goal-sharing in the conversational AI development process, organizations can achieve greater success and build a stronger foundation.
When teams can safely draw new lines, they can move in the same direction together, work more efficiently, and uncover better solutions to business problems. Designers and developers aren't wasting time going back and forth on language use for a flow, and marketers don't need to wait months whenever they want to see a minor customer experience edit. Instead, these core functions can work together to define and create more powerful conversational experiences that speak to customers' very specific needs. And best of all, when all aspects of conversational development are no longer the core responsibility of just developers, everyone can work on more impactful uses of conversational AI.
By adopting a platform structure, business teams can work together successfully and drastically reduce the time it takes to satisfy customers. To harness the true power of collaboration when building conversational experiences, organizations need to strategically structure their teams around tools that unlock their potential and help them thrive.
BEFORE
AFTER
A Faster Conversational AI Development Framework
Transforming the way your customer experience development team functions is more than just a mere adjustment in an organization, it's a modification in your operational approach, collaboration, and tool preferences. With limited developer resources, today's teams, especially those pursuing material growth, rely on these progressive modifications to stay abreast.
In traditional rules-based conversational AI development, workflows have typically placed an emphasis on the role of large developer teams. However, leveraging large language models for conversational AI development grants teams the freedom to construct alternative workflows that cater to exclusive needs, all while preserving core standards such as security, performance, and scalability. This encourages better teamwork and facilitates the creation of streamlined processes critical to achieving long-term success.
Adopting a fresh approach to our work style.
In today's business world, having flexible conversational AI development tools is crucial. Organizations must recognize that outdated technology and processes can be detrimental to their success.
The aim is to delay the launch by creating bottlenecks that slow down the process.
Creating engineering backlogs can lead to high operational costs.
Sacrificing experience performance undermines customer engagement.
Business objectives, goals, existing headcount, and priorities all play a role in determining the optimal team setup. Depending on the company's needs, conversational experience projects could sit close to engineering or have a designated developer working alongside marketing. On the other hand, those seeking to produce large amounts of content quickly may lean towards a marketing or customer support-led team getting the dedicated developer.
Liberates valuable developer resources.
By adopting collaborative conversational AI development tools, cross-functional team members can play more impactful roles in developing more unique customer experiences. When developers cede control, designers and business leaders can edit and publish new content themselves, and designers can build automated conversational experiences with almost zero technical expertise. This frees engineers to focus on more complex initiatives, rather than wasting effort on upkeep. With the organization running with increased agility, conversational AI becomes an asset, instead of a hindrance.
Push the boundaries of experimentation by increasing your velocity.
When customer experience team members save time and share responsibilities, there's more opportunity to fine-tune how a customer is pleased. However, in the rush to keep up, tracking performance can fall by the wayside. Yet, by giving more staff a say in conversational AI development, businesses can focus on generating revenue and running experiments that boost business financial performance.
Deliver more and more experiences
Improved collaboration between customer support, design, and development translates to increased agility for companies. Gone are the time-consuming months of traditional conversational development. With an empowered experience management team utilizing cutting-edge technology, new customer experiences can be created in days, or even hours. This boosts speed to market, allows for rapid course correction in response to changing customer habits, and market conditions, and reduces the time spent managing digital workflows. By streamlining processes and amplifying team productivity, customer experience management teams can focus on more frequent digital iteration, ensuring your user experiences never stagnate.
The power of not being required to know how to code conversational AI
As your organization pivots towards redefining its approach to developing new customer experiences, it becomes crucial to arrange the experience management team structure in a way that facilitates better cross-functional processes. This ensures superior conversational AI building and management capabilities.
Every company is unique, so teams must evaluate their resources before implementing major changes. But for your team to enhance efficiency, speed, and provide secure automated customer experiences at scale, top-notch conversational AI development tools are a must-have. These solutions should…
Empower your non-technical team with the keys to your customer's success.
Lighten the load on your highly specialized technical team members.
Knowbl's conversational AI development tools – coupled with large language models – empower customer and employee experience teams with complete autonomy to create, edit, and launch automated self-service experiences based on brand content only, and with almost no code. This capability of amplifying and scaling the impact of entire organizations accelerates the path to longer-term success.
Entrust business and designers with your experience's safety.
The key to scaled conversational AI development is enabling everyone to build for the experience. However, for bigger organizations with intricate business needs, and security concerns, it's unlikely that engineering can be entirely removed from the customer experience team equation. For a business to thrive, delivering noteworthy customer experiences becomes imperative. With large language models and conversational AI tools like Knowbl, customer support can take ownership of the experience and launch new content with ease, and business leaders can bring their self-service visions to life by building new experiences on a canvas, without code. This transforms the entire organization into "developers" when tools like Knowbl sit in their corner, shifting a significant amount of responsibility into the business hands in the process. Best of all, publishing safeguards and permission controls allow owners to dictate what level of control different team members can have over the experience management, so everyone can share the responsibility knowing that security and controls are always in the right hands.
Introducing the new Conversational AI operating model cheat sheet
Enhancing your customer experience management team is more than moving around talent or bringing on new tech; ideally, it's a redeveloped process that thoughtfully assesses resources, defines priorities, and creates processes that will future-proof the organizations' ability to move quickly. As you embark on this journey of reimagining how to set up your conversational AI team, there are several key factors to consider.
To create a more structured approach, it is important to document and define the specific roles and corresponding responsibilities of each team member.
It's crucial to establish and effectively communicate comprehensive team objectives.
Establishing Key Performance Indicators (KPIs) for gauging operational success is paramount.
Develop a framework that guides teams in prioritizing conversational tasks. Ensure the language used is precise, the structure is organized, and the content is easy to understand and eloquent
Implementing workflow processes can help manage experience improvement projects more efficiently.
To ensure successful onboarding of new technology, it's crucial to align all cross-functional stakeholders such as Engineering, IT, Security, Compliance, Business Leadership
Determine if there's a requirement for external assistance.
Unlock the full potential of your team!
Knowbl's conversational AI development tools leveraging advanced technologies like large language models and pre-trained transformers are empowering teams to work together more seamlessly than ever before. By utilizing these digital solutions, specialists can collaborate on shared objectives and achieve the desired outcome in a fraction of the time. For example – Knowbl's platform is breaking down silos between those responsible for the business and technical resources, fostering greater harmony among team members. It allows teams to achieve greater speed and efficiency by providing greater access to collaboration and giving experience owners more autonomy for creating, editing, and publishing content for customer experience. With more efficient and effective workflows, developers can focus on strategic business projects and task-critical initiatives that ultimately drive growth.
Taking the time to reconsider your experience management team's structure and approach to building conversations that can provide substantial returns. Particularly for teams faced with the challenge of delivering more customer experiences with less staff and budget. By structuring your team around advanced AI technology that amplifies and scales the impact of each member, your organization becomes more resilient.
Companies poised for long-term success are those boasting proficient operational foundations. Taking time to contemplate how and where teams could perform better presents a unique opportunity to gain a competitive edge. Better still, implementing positive changes does not solely enhance revenue and reduce costs, but fosters an empowered and highly-engaged team.
Ready to transform how your teams build for the customer experience self-service? Trusted by teams at leading organizations, Knowbl gives the power to build, ship, and manage secure, scalable customer self-service experiences — without relying on precious engineering and developer resources.
Written by Ben Ortega